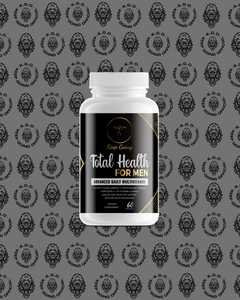 Total Health for Men
$19.99
Translation missing: en.products.product.regular_price
$24.99
Keep Going Total Health For Men provides the perfect amount of vitamins, minerals, antioxidants, and herbs. In today's fast-paced world, many of us do not get the daily recommended allowance of vitamins, minerals and other nutrients. Keep Going Total Health helps to bridge the nutrient gap in your diet. It offers immune support, increased energy, and mental alertness by providing your body with all it needs!
Keep Going Total Health features high levels of premium vitamins and minerals for optimal energy, mental clarity, improved mood, better sleep, and strengthened immunity. Big stand out superstars include zinc, biotin, folic acid, and vitamins A, C, D, and F... as well as our immune blend, energy blend, and antioxidant blend containing green tea and more!
                        Benefits

Immune health support with Vitamins A, C and E.
Contains spirulina for antioxidant and anti-inflammatory support.
 Support healthy aging and longevity.
 With Green Tea to help Boost Immunity. 
 Contains Biotin to help hair and skin quality.

Strengthen immune system.
 Delivers B vitamins to support energy production.
Enhance sense of wellness.
 With Folic acid: used for the production of DNA and red blood cells.
Unique anti oxidant and energy blend.
Obsessed With Quality: Non-GMO Verified.
Supports Optimal Health And Well-Being.
Third party lab tested.
Gluten Free
and more! 
Directions: As a dietary supplement, take two (2) capsules in the morning with a meal. 
*Consult with a physician prior to use if you have a medical condition.