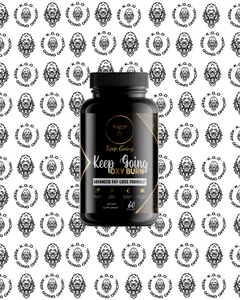 Keep Going Oxy Burn
Keep Going Oxy Burn helps increase your metabolism, reduce fat absorption, control your appetite and help your body burn more fat for fuel, all while preserving your muscle gains! Designed with nothing but the best quality ingredients to guarantee the highest purity and effectivity. 

Keep Going Oxy Burn is an advanced thermogenic fat-burning formula containing a synergistic blend of nine ingredients to support fat loss in multiple pathways. If taken daily, these ingredients support metabolism and fat-burning. When combined with exercise and a reduced-calorie diet, Keep Going Oxy Burn can help you reach your weightloss goals.
Keep Going Oxy Burn is designed with 3 specific blends to guarantee its effectiveness. Our unique focus and energy blend, Thermogenesis blend, and our Lipogenic blend. 
Our Energy and Focus blend contains Phenethylamine; an organic compound, natural monoamine alkaloid, and trace amine, which acts as a central nervous system stimulant in humans. It is found naturally in the body, but it can also be made in the laboratory. Evidence found suggest the benefits for improving athletic performance, depression, weight loss, and to improve mood and attention.
With our Energy and Focus blend, you don't have to worry about dragging it to the gym! Each serving of KG Oxy Burn contains 450mg of natural caffeine. Multiple research studies shows that caffeine can temporarily boost your metabolism over a period of one to two hours. In addition, several studies have shown that caffeine can help your body burn more fat as fuel. 
Other ingredients in our Energy and Focus blend include Glucomannan; a dietary fiber, found in the root of the Konjac plant. Glucomannan has an exceptional ability to absorb water and is one of the most viscous dietary fibers known. It absorbs so much liquid that a small amount of glucomannan added to a glass of water turns the entire content into a gel! It takes up space in your stomach and promotes a feeling of fullness (satiety), reducing food intake at a subsequent meal and delaying stomach emptying, contributing to increased satiety.

Thermogenesis Blend
Green tea extract promotes weight loss, blood sugar regulation, disease prevention, and exercise recovery mainly but it can also helps keeping your skin and liver healthy, reduce blood fat levels, regulate blood pressure, and improve brain health.
Raspberry ketones cause the fat within cells to be broken down more effectively, helping your body burn fat faster. They also support the increase levels of adiponectin, a hormone that helps to regulate metabolism.
Yohimbe Bark: Yohimbine's ability to block the alpha-2 adrenergic receptors located in fat cells can lead to increased fat loss and weight loss.
Lipogenic Blend:
Kola nut is used for short-term relief of fatigue, depression, chronic fatigue syndrome, melancholy, lack of normal muscle tone, exhaustion, dysentery, weight loss, and migraine headaches.
L-carnitine burns fat. With higher levels of L-carnitine, your body becomes more efficient at burning fat, it also helps keeping more energy during and after your workout, helps to boost metabolism to help you lose weight, promotes a healthy immune system.
Directions: As a dietary supplement take one (1) capsule in the morning or 30 minutes before your workout. Do not exceed two (2) capsules in a 24-hour period. Do not take past 4pm. Use for no longer than 8 weeks straight, followed by an off period of at least 2 weeks before resuming use. 

*Not intended for use by people under 18 years of age. Consult a physician before using this product if you have any medial condition.