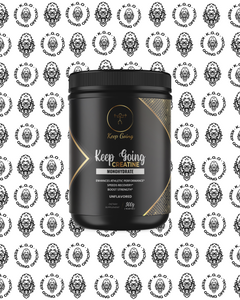 Creatine
Introducing our new creatine monohydrate - the perfect addition to your workout routine! This powerful supplement can help increase muscle strength, power, and endurance, making it a must-have for anyone looking to improve their athletic performance.
Creatine is a natural compound found in our bodies that helps produce energy during intense exercise. However, our bodies can only produce a limited amount of creatine, which is where supplementation comes in. By supplementing with creatine monohydrate, you can increase the amount of creatine available to your muscles, allowing you to work out harder and for longer periods.
In addition to its performance-enhancing benefits, creatine monohydrate also has numerous health benefits. It can help improve brain function, lower blood sugar levels, and reduce inflammation, making it a great supplement for overall health and well-being.
Our creatine monohydrate supplement is made from pure, high-quality creatine, ensuring maximum effectiveness and purity. It is also vegan-friendly, gluten-free, and free from any harmful additives, making it a safe and effective supplement for anyone to use.
To use our creatine monohydrate supplement, simply mix a scoop with water or your favorite beverage and drink it before or after your workout. Over time, you'll start to notice an improvement in your strength, endurance, and overall athletic performance.
So, if you're looking to take your workouts to the next level and improve your overall health and well-being, our creatine monohydrate supplement is the perfect choice. With its numerous benefits and pure, high-quality ingredients, it's a supplement that you won't want to miss.